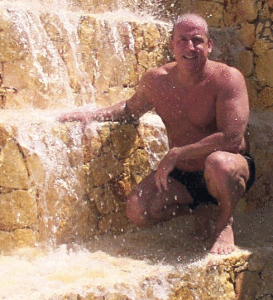 Are you ready to change your life? It doesn't matter who you are, how old you are, or what kind or shape you are in. And it even doesn't matter how many other exercise or fitness programs you've started and quit. If you give GLOBAL HEALTH AND FITNESS and my books GET FIT STAY FIT and The Best You can be' a chance, you will find them to be one of your best resources for personal change.
I'll show you and guide you through the basic techniques of working out and proper nutrition and give you the knowledge, insight and tips and tricks that will keep your workouts fresh and fun. I'll teach you to tap into the invisible forces inside you that can help you win the battle for physical fitness.
My book GET FIT STAY FIT is not a book about diet and exercise or a makeover plan. I'm not going to tell you how to lose weight or how to change your body. Instead, I'm going to teach you how to take control so that you can be your own teacher…your own personal trainer, so that you can make the adjustments yourself to your current lifestyle, so that you can accomplish your fitness and health goals.
The Beauty of my book GET FIT STAY FIT is that you set your own goals, and decide on how far to push yourself. You decide what you want to achieve and how best to improve your body and total health. And I will be here for you anytime you need me. Just ASK DAVE any question and I'll be here to give you the answers you are looking for.
I know my book GET FIT STAY FIT will change the way you look, feel and think.
So thank you for giving me the opportunity to help you learn more about yourself on your journey towards GLOBAL HEALTH AND FITNESS.

I'd like to thank you for choosing Global Health and Fitnessand I'm sure you'll see that our reputation and performance make Global Health and Fitness your best choice for all your fitness needs. We work hard to ensure that our products and information meet your needs so that you can accomplish your goals and become the best you can be.  When you're becoming your best, we will be here for you.
Contact Information

Email:

Voice:

(416) 219-6644

Address:

4981 Hwy 7 East, Unit 12A, Suite #116, Markham, Ontario  L3R 1N1