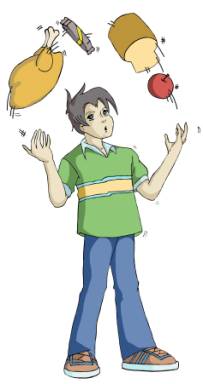 The following article is a small excerpt from my latest audio Cd's.  I hope you'll want to learn more and let me help you to get into the best shape of your life.

There are sound physiological reasons for eating foods in combinations. Some foods, if mixed in your digestive system, will cause problems!The principles of food combining are dictated by digestive chemistry. Different foods are digested differently.
Starchy foods need an alkaline digestive medium which is supplied initially in your mouth by the enzyme ptyalin
Protein foods need an acid medium for digestion- hydrochloric acid.
Acids and bases neutralize one another. If you eat a starch with a protein, digestion is impaired or arrested!
The undigested food can cause various kinds of digestive disorders. Undigested food becomes breeding grounds for bacteria, which ferment and decompose.  Its by products are poisonous, one of which, alcohol, is a narcotic that destroys or inhibits nerve function. It plays havoc with nerves of your digestive tract, and you may become constipated.
The Nine Basic Rules of Proper Food Combining:
Eat acids and starches at separate meals. Acids neutralize the alkaline medium required for starch digestion and the result is fermentation and indigestion.
Eat protein foods and carbohydrate foods at separate meals. Protein foods require an acid medium for digestion.
Eat but one protein food at a meal.
Eat proteins and acid foods at separate meals. The acids of acid foods inhibit the secretion of the digestive acids required for protein digestion. Undigested protein putrefies in bacterial decomposition and produces some potent poisons.
Eat fats and proteins at separate meals. Some foods, especially nuts, are over 50% fat and require hours for digestion.
Eat sugars (fruits) and proteins at separate meals.
Eat sugars (fruits) and starchy foods at separate meals. Fruits undergo no digestion in the stomach and are held up if eaten with foods that require digestion in the stomach.
Eat melons alone. They combine with almost no other food.
Desert the desserts. Eaten on top of meals they lie heavy on the stomach, requiring no digestion there, and ferment. Bacteria turn them into alcohols and vinegars and acetic acids.
Can you eat Protein und Carbohydrate one after the other? YES, but be sure there are at least three hours between eating protein and carbohydrates, to give your body enough time to digest one food sufficiently before the next food comes which requires another way of digestion.
Before you give up and say THIS is all too complicated, just go slow.  With anything new it take time. Maybe begin by eating fruit by itself and on an empty stomach.  Once you have adopted this change into your eating habits you can begin to incorporate some of the other food combinations into your new diet plan. This natural technique of food combining is not new and has helped tens of thousands of health seekers over the years!
High-Starch
Non-Starch Vegetables
(high-water content)
High-Protein
(concentrated)
Fruits
grains
pastas
rice
corn
potato (all)
turnip
squash
parsnip
beet
carrots
eggplant
avocado
aspargus
broccoli
brussel sprouts
cabbage
cauliflower
celery, chives
cucumber
kale, kohlrabi
leeks
leafy greens
onions
peppers (all)
parsley, radishes
zucchini
watercress
green beans
artichokes
sea vegetables
dandelion greens
endive, okra
swiss chard
beans
legumes
fish
poultry
wild game
meat (all)
seafood
seeds
nuts
dairy products
apple
apricot
banana
berries
cherry
date
lemon
grapefruit
melons (all)
mango
nectarine
pineapple
papaya
peach
pear
plum
tomato
fig
orange
Basically:
High Starch Foods can be eaten with Non Starch vegetables (high water content foods)
Proteins can be eaten with Non Starch vegetable (high water content foods)
Fruits should be eaten alone and on an empty stomach.
Proteins and High Starch Foods should not be eaten at the same time. I know you want to get in shape and look great.  Whatever your fitness goal…to slim down…gain muscle…tone your arms or flatten your tummy…I'm here to help you accomplish your goals and to improve your fitness level. If you have enjoyed this article and the many other free features on my site, and would like some more comprehensive information such as fitness books and CD's to aid you in achieving your health and fitness goals, please visit my ONLINE STORE where you will find innovative natural health and beauty products to help you become the BEST YOU CAN BE !

https://globalhealthandfitness.com/wp-content/uploads/2019/01/header-banner.png
0
0
David Gebe
https://globalhealthandfitness.com/wp-content/uploads/2019/01/header-banner.png
David Gebe
2015-03-09 07:22:28
2015-04-09 06:38:04
Food Combining