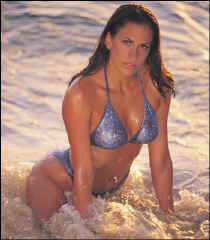 I've always had an active lifestyle from dance classes to being chased by my two brothers. One of the things that has always worried me was if I would be able to stay fit as I grew older. Would I gain weight? Would I still be active? What would I do and How would I handle it?
All of my concerns where put to rest when I read David's book'Get Fit Stay Fit'. They should really teach David's approach in school. We know more about geography and history then we do about our own bodies. If we don't take care of ourselves, who will?
David shows you how to make the changes that will best help you. Putting you in charge of you.
Now as a working mom and Professional Football Cheerleader, I feel I am in better shape today then I was when I was a teenager. And it was all me!!! (With the help and guidance of David's book, 'Get Fit Stay Fit')
There's nothing more frustrating then giving your all to get in shape and seeing no results. If you honestly take the time to get to know your body and take responsibility for yourself, then David's book will work for you, just as it has for me.

https://globalhealthandfitness.com/wp-content/uploads/2019/01/header-banner.png
0
0
David Gebe
https://globalhealthandfitness.com/wp-content/uploads/2019/01/header-banner.png
David Gebe
2015-03-17 16:10:19
2015-04-04 06:07:24
Success Stories – Brooke